What's in a name, ey? Well you might be wondering about ours. Stone Willy's Kitchen is the creation of Stone Willy himself – "but how did he get that name?", we hear you cry in anticipation.
Before Stone Willy's Kitchen was even an idea, Will – our founder – was a massive fan of pizza. Always working on the perfect dough (only ever using the best tipo '00" flour, of course) and experimenting with new combinations of toppings and flavours.
He was especially obsessed with getting the base just right, so much so that he would even be known to carry his own pizza stone for those "pizza emergencies"… we know, right. So, it didn't take long before his nearest and dearest coined the nickname "Stone Willy".
A little tongue in cheek, of course – but, when he and a small group of friends started their pizza venture, they couldn't think of a better name to bring his vision to life, and in 2010 Stone Willy's Pizza was born.
From humble beginnings, we developed and expanded our range of products and Stone Willy's Pizza became Stone Willy's Kitchen. We now have more than 60 locations serving up Stone Willy's Kitchen products across the UK, with more opening each month.
Offering up great pizza, wraps, melts and more – that can all be cooked and ready to take away in just a couple of minutes – it's no wonder that more and more people are loving Stone Willy's Kitchen these days.
Take a look at our menu for more and see our list of locations to find out where your nearest Stone Willy's is – and let us make a raving fan out of you, too!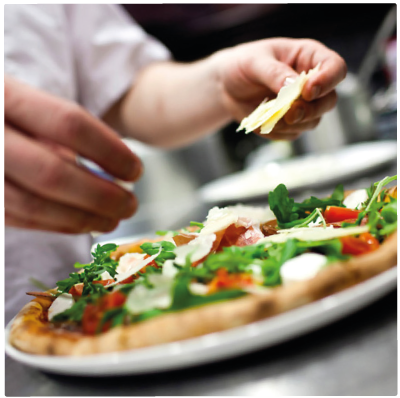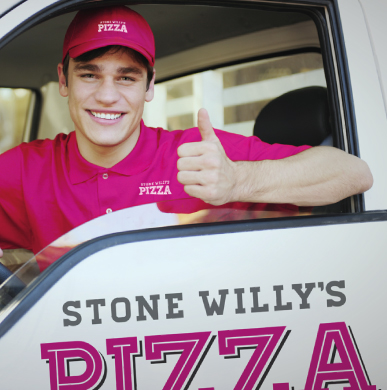 Our mission is simple. Hotter, fresher, faster, tastier food.
Say goodbye to long waits, soggy pizza bases, measly toppings and generally being let down by your food-to-go service.
We work hard to maintain our ethos across all Stone Willy's Kitchen outlets in the UK, and welcome feedback from all our customers so we can continue to improve and develop our products for you.
If you're interested in introducing the Stone Willy's Kitchen range as part of your foodservice offering, don't hesitate to get in touch to find out more about bringing Stone Willy's Kitchen to your area.
We're passionate about making great-tasting food, fast. It's that simple.
All our products are prepared and cooked on-site using our favourite ingredients, and our pizzas can be cooked in our high-speed ovens in less than two minutes! So you know you're getting something freshly made, even when you're in a hurry.
We pride ourselves on creating products we know you'll love, All our ingredients and recipes are taste-tested by our head office team before we introduce them to our customers. Our pizza bases are created especially for us – and we still only use the best tipo "00" flour in our secret recipe, of course.
We've been working hard to ensure there's something for everyone, including working with some of our favourite plant-based companies, such as THIS™, Vivera® and QUORN®. We also have a fantastic halal range and gluten-free pizza bases, too.
If you want to know more about our special diet range, just ask your local Stone Willy's Kitchen team, or contact info@stonewillyspizza.co.uk