In the 3 years since the last Forecourt Show the food to go marketing has continued to evolve. Customers expectations have risen and there is an expectation of being able to get a great tasting freshly made food whatever time of day.
Stone Willy's Kitchen has evolved as the market has developed to be the one of the most profitable food operations available to the forecourt industry. Indeed, Stone Willy's is the key food partner for last two Forecourt Trader 'Forecourt of the Year awards (2021, Hockenhull Garages and 2022 Exelby Services)
Our 'grab & go' solution helps the operator with the following:
Easily prepare food in advance of service
High Margin products such as our 'Melts' with an avg margin over 60%
Minimal food wastage through bespoke planograms and industry leading 'hot hold' times
Cook food in under 60 seconds to make sure the shelves are full at the right times
Regular limited time offer promotions and new product releases
Dedicated account managers with bi-monthly appraisals
Full guidance and compliance for all health & safety legislation (including Natasha's Law & Calorific Information)
Stone Willy's Kitchen is well placed to help operators continue to serve food as we move through the pandemic. Typically operators start with 40 hours dedicated staffing to provide food all day. This is a 60% reduction in staffing costs from our initial forecourt concept (and many other food to go operations) and equates to over £31,000 saved in wages in Year 1 alone. This efficiency in staffing is obtained through removing the need for food counter staff to be present. Data has shown customers are much more likely to take food from an unmanned hot tower than an unmanned food counter. We've also seen a 15% increase in sales in one of our existing locations when we switched from a low profile counter to a full height tower.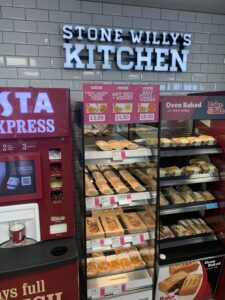 A secondary benefit of our tower grab and go model is a huge reduction in installation costs. Towers can be wheeled into place removing the need for installing front & rear counters, tiling, flooring, lighting, plumbing. Not only do many locations not have the space for full service counters but removing this cost barrier makes hot food a more viable option for many sites.
With the majority of people working from home over the last few years they have become accustomed to ordering food via their smart phones. We've seen forecourts in residential hubs well placed to take advantage of this. Some of our locations have added £100,000 per year to their sales by delivering the pizzas and wraps throughout the day when many traditional take-aways are shut. With fuel prices continuing to rise and people potentially filling up less often is more important than ever that forecourts have services, like food, that reach into homes.
If you'd like to come and say hello to us at the NEC between 26th – 28th April, come and find us on stand B69 and get a slice of pizza whilst there.